Editor's note: There are more ways than one to post your images in the Critique Forum. Shutterstock does not have an official guideline, but the following article presents simple and straightforward methods. If you have any problems, contact us at submit@shutterstock.com.
Whether you're a brand-new Shutterstock submitter or a grizzled veteran, the Critique forum can be a powerful tool when it comes to improving your skill as a photographer or graphic designer. Shutterstock encourages using this forum for this reason as well as providing feedback to others.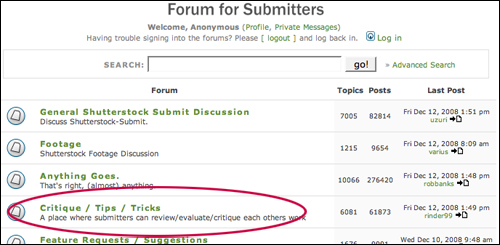 When posting your images for critique, it's important to post both an overall view and a 100% crop. This allows the other submitters/photographers to evaluate different aspects of your image and provide you with the most helpful suggestions they can. This article will instruct you on how to create and post them. Please note, this article is intended for those using Adobe Photoshop or Adobe Photoshop Elements.
Creating the Overall View of your image:
(This is necessary to evaluate general things like lighting, composition, etc.)
1. Open your image in your photo-editing software.
2. Click on Image/Image Size.
3. Change the pixel dimensions so that the longest side (the one with the largest number) is 500 pixels or less. For instance, if your image is 3000 x 2000 pixels, you'd change the 3000 to 500. Make sure the "resample" box IS checked.
4. Hit "OK."
5. Save this image as a JPG WITH A DIFFERENT NAME than the original (otherwise, you'll overwrite the original and you don't want to do that). The Quality setting can be 7-10 or so.
Creating the 100% Crop:
(This is necessary to evaluate things like noise, sharpness of focus, fringing, etc.)
1. Open your image.
2. Zoom in to 100% (usually on the lower left border of the image, you'll see a %.)
3. This step outlines three different methods of creating your 100% crop. Choose the one that you find the easiest.
Method A:
a) Create a new image by clicking on File/New.
b) Make the image 500 by 500 pixels.
c) Click on the image you want to crop and drag it onto the 500x500 screen. You can then move the image around until the part you want to show is displayed. Only a 500x500 px image will show as the larger image is dragged around.
d) When you've selected the part you want, flatten the image and save as a JPG. Perfect size and selection every time.

Method B:
a) Open your original image.
b) Duplicate the background layer.
c) Go to Image/Canvas size and change it to 500 x 500 pixels.
d) Click on the "Move" tool and move the image (top most layer) around until you have the section you want as your crop.
e) Flatten the image and save as a JPG.
Method C:
a) Open the image you want to show. Under Preferences, go to 'Guides, Grid, Slices & Count.'
b) Enter 100 pixels for 'Gridline every' and 1 for 'Subdivisions.'
c) Then go to 'Units & Rulers' and choose 'Pixels' from the 'Rulers' dropdown menu. Hit 'Ok' button.
d) Turn on the extras and grids feature by going to View/Show/Grid from the drop down menu.
e) Then use the rectangular marquee tool to select an area within the grid that contains 5x5 boxes (in other words, 500x500 pixels). Select the 5x5 box that you want to show of the image and
f) Copy Ctrl + C (Windows) / Command + C (Mac OS).
g) Then open a new image: Alt + F, +N / Command + N
h) Paste: Ctrl + V / Command + V, save as: Alt + F, +A / Command + Shift + S.
You're done! As an added bonus, you won't have to do the front end stuff ever again! Just turn on and off the extras as needed!
4. Save this image as a JPG WITH A DIFFERENT NAME than the original (otherwise, you'll overwrite the original and you don't want to do that). Quality setting can be 7-10 or so.
To Attach your images:
[Editor's note: Please limit to three images per post, and the maximum file size per image should be no greater than 256K.]
1. Go to the Critiques/Tips/Tricks forum.
2. Click on "New Topic."
3. In the space labeled "Subject," type a short title for your post, something like "Critique this image please," or "What do you think of this image?" or "Picture of my grandmother's teeth for critique," etc.
4. In the large blank space labeled "Message Body," post your text.
5. Look below the box where you typed your text. There's a button that reads "Browse." Click on that and find the image you want to attach to your post.
6. Select or highlight the name of the image you want to post then click "Open" (or simply double click it).
7. Click the "Add Attachment" button and wait a few seconds. If it attached, you'll see the name of the image in green letters near the bottom of the page. If you don't see it there, it might be that the image file size is greater than 256K. If that's the case, you'll have to resave the image at a lower quality setting (7-10) before it'll post but if you followed the directions above, you shouldn't have this problem.
8. Click the "Preview" button and make sure your post looks the way you thought it would. If not, you can change it. If it looks good, click "Submit."
Final notes:
As mentioned earlier, you may add up to three images per post. If you need to add more, simply post the first three, then reply to your own thread by clicking on "Post Reply" and then add three more, etc.
Special thanks to Shutterstock submitters triceratops, davidcrehner, and jeffbanke.
You can view Pharm's gallery here.