Have you ever discovered an easier way to do something in a design program and wanted to share this tip? Now you can share with the entire Shutterstock community – while simultaneously promoting your portfolio.
Tips and Tricks is a new helpful resource for Shutterstock customers and submitters, written by Shutterstock submitters. Submitting articles is a great way to increase exposure to your Shutterstock portfolio. You can submit graphic design-related articles to Tips and Tricks, giving you a great advantage in writing about virtually any topic you think would be helpful to the design community. The archive of Tips and Tricks articles recently launched and we would love to review articles from you!
Here's how the article submission process works:
Go to /tips.mhtml to begin composing your article. Treat it like you're writing a "how-to" article. Guidelines are listed at the top of the page, and you can include images, create headers, sub-headers and captions, and add additional sections to enhance your article. When complete, upload it for our reviewers to analyze.
Please keep the following in mind:
• Your Tips and Tricks article should be grammatically sound and error-free.
• If writing a "how-to" or "step-by-step" article, all steps must work correctly, steps must be in the proper order, and there should be no steps omitted.
• Try to be as clear and concise as possible in your writing.
• The articles you submit must be written by you. Plagiarized articles will be removed and you risk being suspended or banned from Shutterstock permanently.
Once submitted and approved, your article will be available to all on our site in the Tips and Tricks archive. Especially helpful and informative articles will be featured in our subscriber newsletter with a link to your gallery. Again, this is a great way to maximize your exposure within the industry as well as help new and up-and-coming talent at the same time.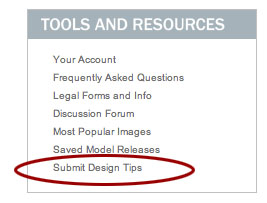 Please note, our target audience is Shutterstock subscribers, most of whom are graphic designers, so we do ask that the articles pertain primarily to graphic design. However, if you have photography or submission tips you'd like to share, feel free to send them as a Word document to atlarge@shutterstock.com.
You'll notice the "Submit Design Tips" link under "Tools and Resources" on your homepage after you sign in (see image), or click here to visit Shutterstock Graphic Design Tips and Tricks and begin submitting today. As always, we thank you for allowing us to represent your content.