We continually strive to improve your experience with Shutterstock and are happy to announce the following news and enhancements:
Shutterstock's Library Reaches 6 Million Images
On Friday, February 20th, Shutterstock reached another milestone as it added the 6 millionth image to its rapidly growing library of premium royalty-free stock photos, vectors, and illustrations. In less than four months, Shutterstock has added over one million images, reinforcing its status as the fastest growing site for high quality, royalty-free images.
"We continue to experience tremendous growth in both the size of our library and in the volume of images that our subscribers download," said Jon Oringer, founder and CEO of Shutterstock. "Thanks to more than 144,000 submitters who contribute to our library, our customers can depend on us for a steady source of fresh, high quality content."
While Shutterstock continues to accept an average of 70,000 images per week, the company remains committed to accepting only the highest quality stock photos, illustrations, and vectors from its global base of talented submitters. In fact, fewer than 40 percent of the images Shutterstock receives are approved for the online library.
"We take great pride in our reputation as one of the most selective agencies," said Adam Riggs, president and chief financial officer of Shutterstock. "To reach this milestone so rapidly while maintaining our stringent acceptance standards is a testament to the creativity and passion of our photographers and illustrators."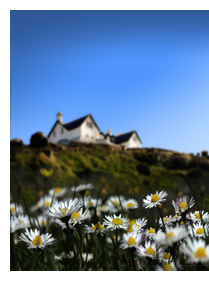 Riggs is referring to submitters like Sadik Demiroz of Istanbul, Turkey, who submitted the 6 millionth royalty-free image. Demiroz shot his artful composition using a technique called "selective focus" to highlight a field of daisies on the English seaside, while leaving the background out of focus.
"I'm thrilled that my photo is the 6 millionth image," said Demiroz. "Given Shutterstock's reputation for selectivity, this recognition is a true honor."
Demiroz is a professional photographer with a Masters of Fine Arts in Photography from Savannah College of Art and Design. He has won more than 200 national and international awards and opened seven solo exhibitions.
Footage Subscriptions Extend from 30 Days to Full Year Without Raising Prices
Shutterstock recently implemented some important enhancements to the footage subscription plans.
The term of all footage subscriptions has been extended from one month to one year. Now people can save on footage with a subscription and download clips anytime for up to a year.
Also, subscribers can now choose a Low Resolution subscription plan in addition to SD and HD plans. The new Low Resolution subscriptions are ideal for projects such as multimedia press releases, marketing presentations, streaming video, websites, and blogs.
Subscribers also have the option to automatically renew, ensuring a growing market for your videography and animation talents.
These announcements exemplify our commitment to being the best royalty-free image and footage provider. As always, we thank you for allowing us to represent your content.