Titles are an important yet often overlooked element in the submission process. If this was something you underestimated in your workflow, your otherwise beautiful image may have been rejected with this reason:
Title. Titles may not contain camera name, web addresses, or other unnecessary information.
When composing your titles, stick closely to the following tips and the "Title" Rejection Reason will be one you'll never have to worry about.
The best advice here is already within the rejection reason and is entirely self-explanatory: Do not include the information about the camera you used, web addresses, the name of your business, or any other information that does not directly correlate to the image at hand. Keep the title relevant to the image.
Briefly describe what occurs in the image. What is the subject? Is something happening? You don't have to go into too much detail -- save the specific details for the keywords. Take a look at the photo below as an example.
Title: Kids running on green meadow against blue sky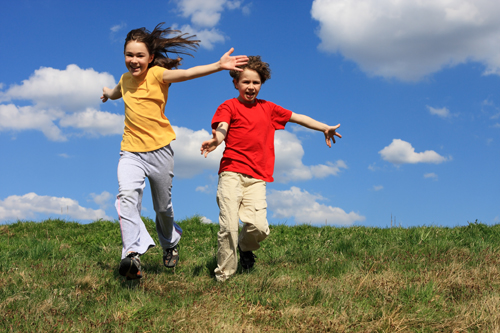 A good rule of thumb is to take a minimalist approach and address the Who, What, When, and Where in the image (let the buyer determine the Why). Not all of these elements will always apply, but in many cases, two or more will. Let common sense guide your judgment; do not study the image closely and over-think the title. Sometimes less is more. Take a quick glance at the image, and chances are the first few thoughts that occur to you will befit the title. Kids. Running. Green meadow. Et cetera.
Shutterstock asks that you keep titles under 200 characters, including spaces, so make them count. You don't need to include in the title "Stock photo of…" or "Vector of…" It is redundant and completely unnecessary.
Keep in mind: titles are not searchable within Shutterstock. They are, however, helpful for subscribers in choosing the right image. Sometimes they answer questions a subscriber may have. Titles are often indexed in Google's image search engine, so the more relevant, the better.
Also, be culturally sensitive when composing titles. Given Shutterstock's worldwide base of both subscribers and submitters, this can be tricky due to language barriers. Keep in mind that a buyer could be from anywhere. Titles deemed offensive will be rejected – the same goes for keywords.
Editorial Captions
Editorial Captions are especially important for all editorial images. If you submit an acceptable editorial image without a proper caption to style/format, you may have been rejected with this reason:
Editorial Caption. Newsworthy caption is required. Please read Forum thread: /forum/abt40005.html
Editors rely on factual information, so it is imperative for a caption to be accurate in order for it to be accepted. Shutterstock has specific rules for captioning Editorial images. For more information, see Good Keywords Sell, Part 3 or this forum thread.
Whether you are titling an image for commercial purposes or captioning an editorial image, proper titles/captions will help you earn sales, as they are attributed to thumbnails in image search results. In addition, a good editorial caption will also enable your image to have real long-term value.
Final word: Get down to basics. Simply state what the image is/what is happening in the image regardless if it is a basic title or an editorial caption. It's really that simple.
Past Rejection Reasons:
Removing Purple Fringing
Why Were My Images Rejected and What Should I Upload?
Why Images Get Rejected for Focus
Color Profiles in Vectors
Why Was My Image Rejected for Keywords?
Why Photos Get Rejected for Poor Lighting
Similar Submissions
Effects
Limited Commercial Value
Noise
Overuse of Noise Reduction Software