Story Behind the Photo is an ongoing series that highlights a unique story behind a photo or photos created by Shutterstock submitters. This month's featured story comes from two Shutterstock submitters. Lev Radin and Miro Vrlik recently participated in Shutterstock's
On The Red Carpet
program, which specializes in obtaining media clearance for Shutterstock photographers to access celebrity-themed or newsworthy events -- in this case, the annual Tribeca Film Festival in New York City. Both Mr. Radin and Mr. Vrlik shared their stories with us. The
On The Red Carpet
program is a great way for subscribers to source Shutterstock images for editorial usage. You can view Mr. Vrlik's gallery here, and Mr. Radin's gallery here.
Learn more about the On The Red Carpet program here.

Miro Vrlik
For the past three years, I had always planned on covering the Tribeca Film Festival, but each time I missed the application deadline. I would end up seeing this message on the Tribeca web page: The deadline for requesting press credentials for the 2009 Festival has passed and we are no longer accepting new requests. This year was no different, except for one detail… I decided to contact Shutterstock's "On The Red Carpet" team. They were able to get me a credential this year – after deadline!
The Tribeca Film Festival was scheduled to last about a week and a half, with about 50 events total. After I learned that I would have a credential, I then found out that I wasn't the only photographer who requested access to the event this year. With so many events to cover at the Festival, the On The Red Carpet team was able to assign two photographers -- Lev Radin and me. Even though we had credentials to cover the Tribeca Film Festival, all of the individual events had to be approved separately. In total, as a team, we requested (and were approved) to cover 19 events.
I first met Lev on the day we picked up our press passes. Lev`s great and friendly personality made me feel confident from the beginning that we could cover this event like a team.
Everything started a day before the Woody Allen premiere of "Whatever Works" on April 22nd. The Tribeca Film Festival opening press conference started at 10:00 a.m. at the Borough of Manhattan Community College (BMCC) location in New York City. The presser took around one hour with the jury and Festival founder. I found a seat in the sixth row and was comfortable shooting that distance with my 70-200mm lens along with my Canon 5D Mark II -- it really was not a problem taking great images with partial cropping and almost without grain.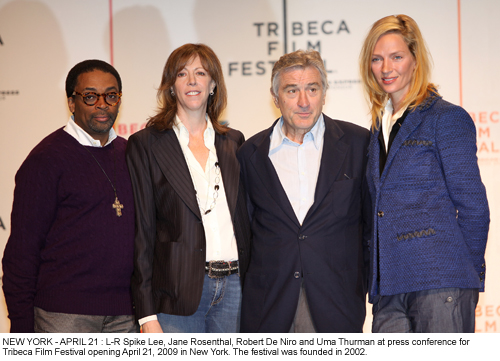 I wish I was closer, but sometimes we must improvise. All photographers and videographers have time for shooting. After this was over I waited with other photographers for that evening's Vanity Fair Party. The party took place at the State Supreme Courthouse, and the celebrities started arriving after dark.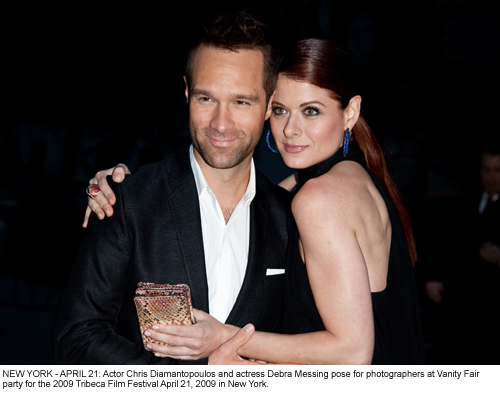 Not all the photographers had a good place (first come, first serve), but everyone had an opportunity to take pictures. It wasn't really a good place for artistic picture taking, but it was good for news and red carpet images. I recommend having a good flash with fast recycling for events like this or you may lose some images. I really do not like black backgrounds, like here with Bono.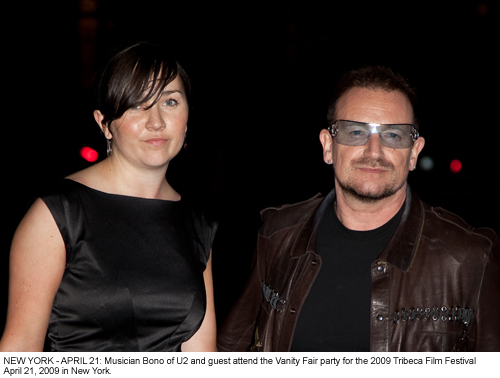 All the other event days were a little different, but I must say great. Every movie premiere or presser is at a different locality and I had to sign in to every event I wanted to photograph. I would like to thank the On The Red Carpet team, as they were in contact with Lev and me every day with updates, or even just a casual reminder for us.
My first premiere was at Ziegfield for the Woody Allen film "Whatever Works."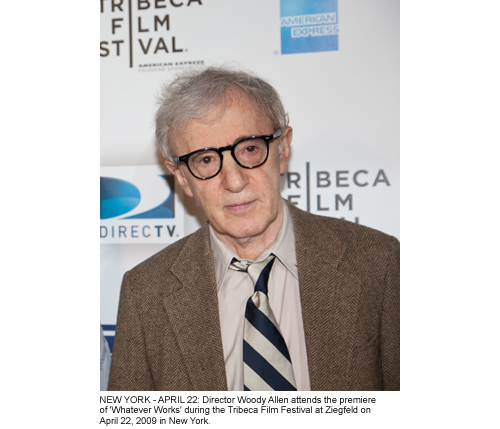 I thought this was a wonderful event with many great celebrities in attendance, including Uma Thurman and Evan Rachel Wood.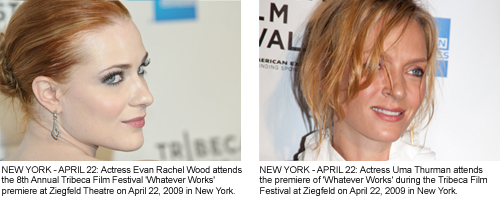 At this shooting, we were very close to the celebrities so I had to use an 28-105mm lens and that worked great for me. Flash is important for every event. You may opt to shoot at a high ISO though, like ISO 800 – this allows you to capture more available light.
Every film or event I attended was very well organized and everything went smoothly. I had a total of about five days of shooting and I was able to create many images. For anyone wanting to cover an event like this in the future, I recommend you to always be on time or arrive in advance and set up your camera before people start arriving. I generally use automatic and manual mode on camera, but I really prefer more manual mode, such as the below photos of Kim Kardashian and Meg Ryan with Cheryl Hines.





I would like to thank the On The Red Carpet team again for their efforts in coordinating this event. I'd also like to thank my photo partner, Lev Radin and all the great people I met at the festival.




Lev Radin
It is an annual affair in downtown New York City: the Tribeca Film Festival. The annual festival first started just after the September 11, 2001 tragedy by Robert De Niro and Jane Rosenthal to promote the economic and cultural revitalization of lower Manhattan. It quickly became a fixture in the city and started to attract lots of attention from filmmakers, press, and most importantly, audience. Even this year, with the economy in poor shape, nearly all shows were sold out.
I attended the Tribeca festival for the last three years as a spectator and saw lots of interesting feature films and documentaries. However, this year was completely different. I contacted Shutterstock at the end of March to obtain an On The Red Carpet pass to attend and document this year's festival.
It is a very different environment when you photograph movie stars arriving for premieres of their films, or when filmmakers are talking about their work, such as the opening night of the festival, when I photographed Ice-T and Christopher Walken. At the same time, even low key events like premieres of foreign movies or shorts or documentaries were very interesting to shoot.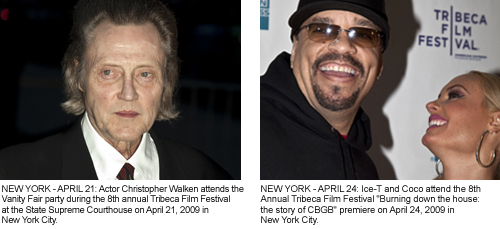 I found that many photographers who covered the festival were very friendly and helpful in many ways. They shared tricks, trade secrets, or simply chatted while we waited for the stars to arrive.
From a photographer's point of view, the festival was very well organized. There was always an area for the photographers separate from videographers and journalists who were filming and writing about the event. All these areas were clearly marked and prepared for each event. Every photographer received word in advance which star or celebrity was coming next to the podium or red carpet. We were fortunate – no one had to compete with anyone else to get a decent shot.
Interestingly, some stars were more cooperative and allowed the photographers time to get the right picture, smiling and posing long enough to get a good shot.
Most of the time, the lighting was adequate. I used my newest camera, a Canon 5D Mark II and 24-105 F/4L lens with EX 580 II flash. Most of the images were made in manual mode on both camera and flash. In most cases, I had the the ISO set up to 800 with a shutter speed between 1/160 to 1/250 and f-stop to f/9.
I usually shoot in RAW format and was surprised to learn that most of the photographers were shooting in JPEG format instead. However, after a long day of shooting, I was exhausted and it was a challenge to process files after all.
I am very grateful to Shutterstock for this opportunity. It was both very rewarding and informative and I believe it enhanced my career in photography. The Shutterstock team followed up with all schedule adjustments and other arrangements. They were not only helpful, but stayed on top of their game the whole time.