On June 30, 2008, Shutterstock hit its most impressive milestone yet – over 4 million images in its library! Shutterstock's image collection has grown by 1.2 million images in 2008 alone, and this could never have happened without the hard work and dedication of Shutterstock's many gifted submitters.
Shutterstock contributor Rodney Hobart, a photographer and designer/illustrator based in Neosho, Missouri, contributed the 4 Millionth photo -- an eye-catching image of a historic drive-in theater on Route 66. Interestingly enough, this was from Rodney's first batch submitting to Shutterstock.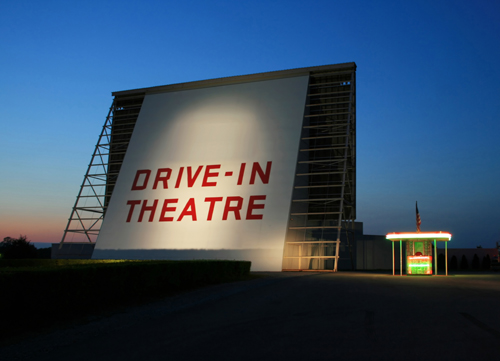 "To be approved on my first go is an honor, but even more surprising was how fast my portfolio was reviewed," Hobart said. "I uploaded my photographs and was approved by the next day. I am a newbie to the site, but so far it has surpassed my expectations and I look forward to building up my portfolio in the next few months."
With so many images in the library and with such a wealth of talent contributing to Shutterstock, it is extremely difficult to pinpoint a "typical" Shutterstock submitter. However, Rodney fits the bill in terms of his approach to the industry.
"I do photography for my business, more on a commercial basis," Hobart said. "So I would call myself a professional in the aspect that I use photography for paid work. However, I personally still consider myself a hobbyist when it comes to taking photographs for microstock and licensing purposes. I am more of a designer/illustrator than photographer at this point. I have done photography for product shots and other commercial use for about seven years, but I've been doing it as an art/hobby for 2 years."
Rodney used a Canon EOS 40D with a Canon 28-135MM IS lens for the shoot.
As to the story behind what became Shutterstock's 4 millionth image, Rodney explained: "I was actually at the Route 66 Drive-in Theater doing a photo shoot for a trucking company. They wanted one of their Semi Trucks with the drive-in screen as the background. While they were getting the truck cleaned up and in position I decided to take a couple of shots of the theater by itself just to see how they turned out. This was long before ever considering selling stock on a microstock website.
"It looked interesting and I had a little time on my hands. I spent a few minutes finding the right angle to catch the "essence" of the photo. There is an American flag mounted on the neon ticket booth. It just has a lot of symbolic Americana history to it. It is hard to find these drive-ins any more, especially in the shape this one is, which makes for a nice composition when you can get the right shot."
Whether you're a long-time contributor to Shutterstock or you're still waiting for that first batch to be accepted, we would like to say a special thanks to the many photographers and artists who contribute their time, energy, expertise and talent to make Shutterstock what it is today. The participation of a worldwide group of dedicated men and women greatly extends the range and impact of Shutterstock's services to its subscribers, and you have our gratitude.
You know who you are!