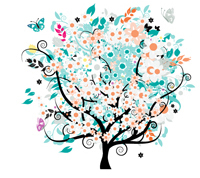 Shutterstock is pleased to announce a new way for you to earn money. Our new On Demand subscription plans payout over 3-7 times per image download than our standard (now called "25-A-Day") plans. These innovative lower-commitment plans allow subscribers to download stock photos, illustrations and vectors anytime over a one-year period without any daily or monthly download limits. We are confident these new On Demand plans will help us reach even more new customers.
On Demand customers can download images anytime over a one-year period by paying a one-time fee of $49 or $229, depending on the quantity and resolution of the images desired. Within the plans, prices range from roughly $4 per download for smaller sizes to roughly $10 per download for the largest sizes and for vector images.
More earning potential!
The Earnings Schedule now reflects the new payout rates for On Demand downloads: you will earn 3.25 times your normal payout rate for "small/medium only" downloads, and 7.5 times your normal payout rate for an "any size" download.
The On Demand payout-per-download structure works as follows:
Your Lifetime Earnings
On Demand
Small/Medium
On Demand
Any Size
Under $500
$ .81
$1.88
$500 to $3,000
$1.07
$2.48
$3,000 to $10,000
$1.17
$2.70
$10,000+
$1.24
$2.85
Earnings from On Demand downloads will be counted toward your lifetime earnings figure and therefore will help you move toward the higher per download payout rates – so you can now reach those milestones even faster!
On Demand subscriptions will provide customers a great way to become comfortable with Shutterstock at a lower initial price point. They are also a perfect complement to our existing products, utilizing the same proven Standard License and the same premium library. We are thrilled that we are now able to meet the needs of virtually any image buyer, no matter how big or small, no matter how frequently they need fresh images.
We hope you're as excited as we are about this new On Demand subscription product -- there is great potential here. Thanks to our submitters, our library continues to grow, and we are thrilled at the level of high quality images our submitters provide. Shutterstock will continue to create innovative subscription-focused solutions, and we thank you again for your submissions.